DETAIL
2 hours all-you-can-drink all 11 items 4500 yen course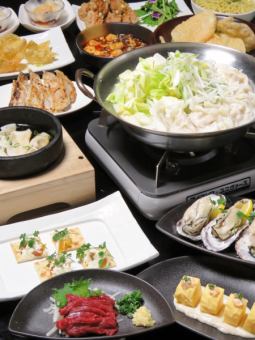 By using a coupon4500 yen
tax included
All-you-can-drink available

All-you-can-drink standard!
Reservation deadline

Visit of hope the day before until 23:00
THE GYO Nagano shop's new course! Appetizer, excellent cooking upgraded.Furthermore, in addition to special meat juice dumplings / dumplings you can choose, you can enjoy dumpling dumplings for 2 hours with free all-you-can-drink course ♪ Enjoy dumplings with miso soup menu "Morning chicken soup stock cooked dumplings" ♪ Use coupons to change all you can drink to 3 hours !
Course menu
● appetizer three
● Pakuchi salad or THE GYO salad
● Setouchi produced raw oyster
● Special horse sting (lean)
● Homemade oil of young chicken ginseng sauce sauce
● Homemade Mabo Tofu
● Broiled meat broiled dumplings
● Water dumplings or rice dumplings or Italian dumplings or fried dumplings
● thick chicken soup stock cooked dumplings
● Champan noodles or wild cook
● White ball ice
All-you-can-drink menu
·beer
- Gold wheat
·Highball
· Tris high ball / black high ball / Yuzu high ball / Ginger high ball
Sour / sake High
· Lemon Sour / Grapefruit Sour / Yuzomitsu Sour / White Peach Sour / Splendid Sour / Mango Sour / Lime Sour / Calpis Sour / Blue Apple Sour / Oolong Hi / Green Tea High
·Cocktail
· Cassis soda / cassis oolong / cassis orange / peach fin / peach oolong / fuzzy navel
·Fruit wine
· Plum wine / apple sake / litchi liquor
·wine
· Merlo / Chardonnay
Shochu / Sake
· Shochiku Meishi / Kinomiya Shochu
·Soft drink
· Oolong tea / green tea / cola / ginger ale / orange juice / grapefruit juice

Coupon that can be used
【Banquet course only】 All you can drink is from 120 minutes to 180 minutes!

Presentation conditions

At the time of booking and when visiting

Conditions of use

4 people or more / other ticket services not be used

Expiration date

Until the end of April 2018

【Banquet course only】 For celebration / Name bottle bottle or flower gift ♪

Presentation conditions

At the time of booking and when visiting

Conditions of use

10 people or more ※ All reservations are required until 10 days before use

Expiration date

Until the end of April 2018

【Banquet course only】 Secretary-sama 1 person free! Reservations for more than 10 people and limited use

Presentation conditions

At the time of booking and when visiting

Conditions of use

10 people or more / can not be used together with other tickets / services

Expiration date

Until the end of April 2018
2018/04/11 update